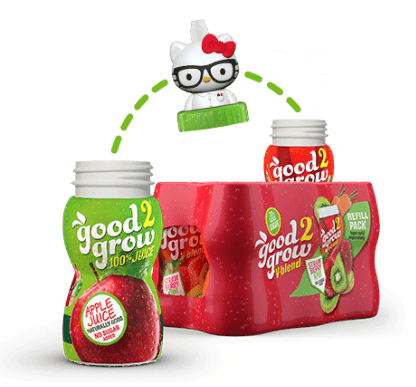 Good2Grow is a fun and unique way for kids to get wholesome and nutritious, no sugar added, 100% real juice in an easy sippable way. They come in flavors like 100% Apple Juice, 100% Fruit Punch, 100% Strawberry Kiwi.
We recently went to Disneyland and the great thing about Disneyland is that you can bring in your own food and drinks to help cut costs on your very spendy trip. Plus, we all know that vacation is all about eating… whether it is in the car, at the park or in the restaurant. I would really love to try to help balance out all the goodie, treats and frozen lemonades;) with something a little more healthy……and fun.
Good2Grow was a great option for our trip….I was able to provide my kids a healthy drink option and stay in theme. Believe it or not, Good2Grow has Disney, Nickelodeon and many other beloved drink top characters to choose from. For my boys I got Mickey and SpongeBob…for my daughter I got Belle. They were super excited and I didn't even have to break the bank at one of those pricey gift shops.
Right now they are offering an amazing deal…..buy a Single bottle and get a FREE 6 pack of your choice!!!
Hurry and get your printable HERE
(be advised – some stores do not accept printable coupons for FREE products)