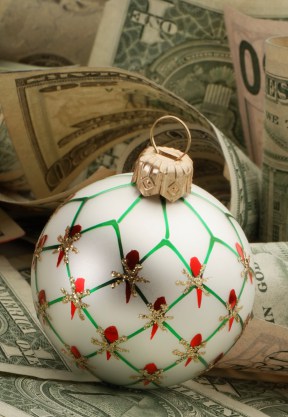 1. Prepare your budget and consider hidden costs. If expert estimates are correct, consumers are looking at dishing out an average of $760 during the holiday season. This is no small figure, and in order to avoid using a credit card to help cover some of the expenses, you need to create a budget that includes a list of potential costs. Go beyond gifts and airfare to the many overlooked needs that can derail your budget, including shipping costs, charitable donations and service tips.
2. Make a list and track it. By jotting down a list of gift recipients and potential items for each loved one on your list, you can keep your eye out for deals on those presents ahead of the big shopping rush. For help managing your shopping needs, download the free gift list app like Santa's Bag for iPhone or Christmas Gift List for Android to keep track of ideas and purchases. These apps also contain a budget function, which will let you know when you meet or exceed your budget for gift recipients.
3. Research prices and scout out deals. Researching prices on desired products now is important for two reasons: one, you can snatch up a product when it goes on sale; and two, you can better distinguish actual deals from duds. Retailers are notorious for jacking up the price of a product and discounting it back down to its original selling price. You can save even more by looking for applicable coupons, even when you're shopping online. For example, you can find hundreds of coupon codes that actually work from CouponSherpa.com, plus in-store and mobile coupons, too.
4. Watch price drops and keep track of receipts. Track sales using tech tools like Poach It to ensure you don't miss out on a deal when it becomes available. If you happen to pick up a few products that drop in price after your purchase, you may qualify for a price adjustment from the retailer or even from your credit card. For price adjustments and easy returns, file your receipts in a desk drawer or use the One Receipt app to turn the paper records into digital files. Online shoppers can request price adjustments from sales reps via chat messages or by calling customer service.
5. Determine what to buy now vs. later. Buying everything before the holiday rush can be tempting, but you might be missing out on savings by doing so. For example, experts agree the first two weeks of December are best for bargains on toys, while gaming consoles and select cookware are best priced during Black Friday promotions. Check out this detailed calendar of best times to buy products from Lifehacker for more insight.
6. Pay attention to retail trends. Retailers start making big holiday announcements right now to gain an edge over competitors. Family Dollar just announced an ad-matching program, while Kmart is offering "no money down layaway" to Shop Your Way members. Macy's is also expanding kiosk technology that allows shoppers to browse products and even make purchases, thereby skipping long lines characteristic of the holiday season. Ultimately, it pays to keep on top of retailer trends so you can take advantage of the convenience and money-savings they might offer.
7. Mark your calendar with important dates. Set reminders for USPS, UPS and FedEx shipping deadlines to help you stay organized when sending gifts to loved ones who live many miles away. This way you don't get stuck paying more for expedited and rush carrier services. Also, mark your calendar for Thursday, Dec. 18, this year's Free Shipping Day when hundreds of online retailers offer free shipping with no minimum and guaranteed delivery by Christmas Eve. Go to FreeShippingDay.com to see which retailers are participating and to grab the exclusive codes for the delivery freebie.
Thanks for these great tips Andrea @ www.AndreaWoroch.com/ follower her on twitter for more tips https://twitter.com/AndreaWoroch