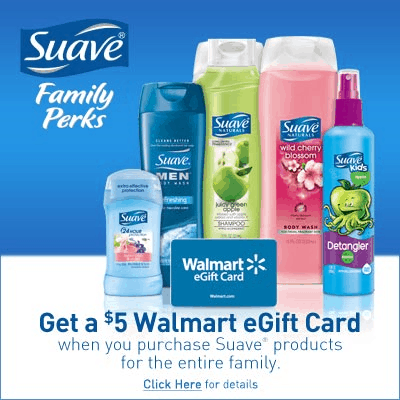 Suave has been a tried and true trusted product for my family ever since I can remember. You know that you are not only getting value but you are also getting quality…. these two qualities very rarely go hand and hand, that is why Suave is always in my bathroom shower.
Suave makes quality products for the entire family and at Walmart's everyday low prices, what can be better than that? Whether it's Suave Kids detangling spray, Suave Mens 2-in-1 Shampoo & Conditioner, or Suave Naturals Body Lotion- Suave has got the whole family covered!
Now, exclusively at Walmart, you can get rewarded for buying the Suave products that your family knows and loves!
Sign up
for Suave Family Rewards at Suave Family Perks and every time you purchase a Suave product at Walmart, you will earn points that are redeemable for a $5 Walmart gift card!
When you sign up for the new Suave Family Perks program, it is super easy to grab your points, all you need to do is log in and scan your Walmart receipts that contain your Suave purchase,… now you are one step closer to earning a $5 gift card for doing what would be doing already!!! Happy shopping.
But wait – there's more!!!
Enter now to win a $50 Walmart giftcard through the Suave Family Perks giveaway below – Good Luck!!
Suave Family Perks – Resourceful Mommy

enter to win a $50 Walmart giftcard through the Suave Family Perks giveaway
Disclosure: This post has been sponsored by Global Influence- All thoughts, opinions and ideas are my own