15 Couples Costume Ideas For Your Halloween Party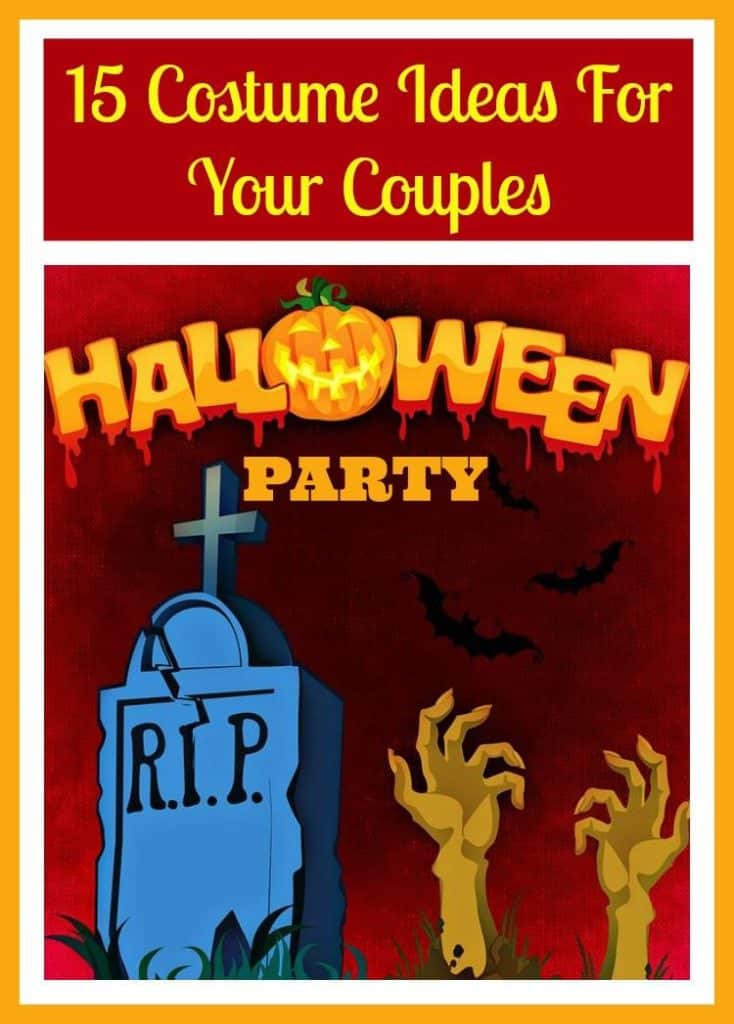 Heading out to a Halloween party during the spooky season can be a great deal of fun when you have picked the perfect costume. The problem with this is that great costumes are hard! It becomes even more difficult when you are a couple because you are tied to those types of ideas. Fortunately for you, we have assembled a nice, quick list of 15 great costumes that most any couple could put together. Best of all, they are all certain to be a big hit!
Bonnie and Clyde – This dubious couple can come back to life rather easily with some older stye clothes, bullet holes and a fake machine gun.
Rick Grimes and Zombie – Who doesn't want to be RIck Grimes or a zombie in 2016?
Fred and Wilma – The Flintstones are perennial favorites primarily because you can fashion their iconic outfits with some fabric and a bit of creativity.
Harry Potter and Hermione – The wonder kid is always a great choice for couples because you can really pair him up with any other Potter character for easy recognition. Hermione just happens to be one of my favorites.
Luke Skywalker and Princess Leia – With the resurgence of the new movie and all the other Star Wars fun at Halloween, these two make a natural pairing that everyone will rave about.
Batman and Robin – You can also add in Batgirl if you are more comfortable. They all work well together as Halloween costumed partners.
Prince William and Kate Middleton – These two are still so important in modern pop culture that a costume is still rather easy to pull off.
King and Queen of Hearts – This one is really cool and can be done with all suits. Most people can come up with some type of outfit that screams royalty while covered in hearts.
Sylvester and Tweety – A bit of makeup and some creatively designed and colored clothes will bring these classic cartoon characters back to life
Poison Ivy – There are many variations of this but the one that seems to get all the laughs is about the plant. One person dresses up as a poison bottle, skull and crossbones, etc. while the other is an ivy plant. Plays on words are very popular.
Joker and Harley Quinn – With the Suicide Squad movie out, there are literally tons of costumes out and about for this couple. If you are wanting to go a bit cheaper there are also countless tutorials online to create great costumes at home.
Bad 80's Fashion Couple – A bit of neon, hairspray, turned up collars and leggings are a great start, but making a great (bad) 80's couple Halloween costume is generally a breeze.
Disco Fever – Giant afros, disco balls spinning and a thermometer outfit are a great start towards this creative couples idea.
Salt and Pepper – Two shakers and you are on your way to the party with a very basic but cute outfit.
Forrest Gump and Jenny – Most folks know this classic outfit pairing and it can be done quickly with some basics. You need a pair of pulled up too high dress pants, a red hat, plaid shirt and funny mannerisms for Gump. Jenny can be the drugged out and seeking version or the younger, more 60s vibe Jenny. All are great. Some folks even come as Gump and Lt. Dan.