So, here we are… a full month in, how many of you have stuck to your New Year's resolution? Are you still eating healthy, are you saving money… are you spending more time with the family? If the answer is YES…. good for you, you are the rare few. If you answered no, then it may be time to rethink your strategy.
FRED MEYER's CLICKLIST IS THE ANSWER!
You may feel as though you have read that wrong…. but, it's not. Fred Meyer's ClickList can be the answer to all the above resolutions, I know that it has been a lifesaver and has kept me on track. My main goal for the year was to start eating healthier and not give into temptation. Boy is that easier said than done, once you step foot into the grocery store, my mouth starts to go wild with wanting every chip, cookie or mac and cheese in the deli. I knew that I would be a gonner. ClickList has helped me keep on track. I just pull out my eating plan that I am following and can go straight down the list quickly and efficiently, getting everything I need in a quick 10 minute sweep…. nothing MORE and nothing LESS. To top it all off….in an improvement to my last post about Clicklist they now offer same day pick up!!!

 CLICK LIST NOW OFFERS SAME DAY PICK UP
That helps me circle back around to the other two resolutions people make. Now that I am not buying impulse items that are not on my list and are not "really needed" I am able to make better financial choices….. plus you are able to see AND adjust your order as needed to fit your budget, without the embarrassment of the person in line behind you gasping and rolling their eyes. I have noticed since using ClickList that I have been able to shave off at least 25% for my bill by being more aware, being able to check the cabinet to see if I really need that jar of mayo and just being able to look over my final selections and eliminate "wants" from "needs".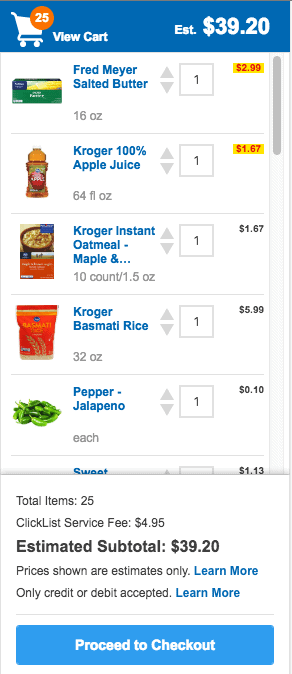 CLICKLIST HELPS ME SPEND MORE TIME WITH MY FAMILY
And finally, like other busy moms with jobs, PTO, baseball practice…. our time is stretched. I had mentioned in my previous post how "going to the store was like a mini vacation", yeah, that was when I was running away from diapers and needed to breath. Now, I have teenagers, and for whatever reason, they think I am their personal chauffeur. I am here…. then I'm there… sometimes I need to be at 3 different places at the same time. ClickList is on my watch, I don't follow store hours or fit into their schedule… they fit into mine. If I want to order tomorrows groceries at 1am…. I CAN! If I want to order tonight's dinner while at dance practice I CAN! ClickList has freed up my time and set me free of the traditional grocery shopping ways.
So, there you have it…. the answer to all your desires…. layed right their at you local Fred Meyer using Clicklist
Check out what other shoppers have had to say about this service.
Mom start – "Clicklist is an ideal way for busy families to save time and money!"
Mommy Travels – "It's a lifesaver for a single mom."
Merlot Mommy – "The first time I used the ClickList service, I was actually traveling! I placed my order the night before I came home from a trip. I used the ClickList app on my phone. I then picked up the groceries on my way home from the airport. Talk about a win for time savings and efficiency!"
This is a sponsored conversation written by me on behalf of Fred Meyer. The opinions and text are all mine.