Help Children Fighting Cancer with The Give Hope Bear
Cancer sucks… I think we can all agree with that… but when it affects a child, it is even more heart-wrenching. My husband has lost two very important people to him to cancer. His brother had neuroblastoma. They first discovered that he was sick at the age of 8, according to my husband, (who was only 10 at the time) this was a scary, confusing and ridiculously hard time for him.
His brother went through numerous treatments. As you can imagine this was a strain on the whole family, and for little ones this process is so hard to comprehend. His whole family preceded with bone marrow testing… unfortunately none of them were matches. They found hope after flying down to LA, where his brother had his own bone marrow cleansed. My husband and his 2 other younger brother had to stay with grandparents for several months while David had this procedure done.
David, soon went into remission and was once again able to capture his childhood… even for a bit. A year and a half later.. he began feeling sick… this was in October, they found out that his cancer had come back… and with a vengeance. By Mid December, David had passed away… he was 12 years old.
I never had a chance to meet David but I love him just the same. Did you know that each year, over 10,000 children under the age of 15 are diagnosed with cancer. I am thrilled to announce the Extended Stay America has partnered with the American Cancer Society to give hope to children battling cancer through the Give Hope initiative
Since 2013, Extended Stay America has donated over 85,000 FREE or deeply discounted rooms to the American Cancer Society® for patients receiving treatment away from home. And now, in an effort to bring awareness to childhood cancer, they're expanding on this great partnership with the launch of Give Hope Bear.
Extended Stay America – through the support of their guests – has committed to providing 5,000 Hope bears to children's hospitals throughout America with the simple goal of bringing a smile to the face of a child battling cancer.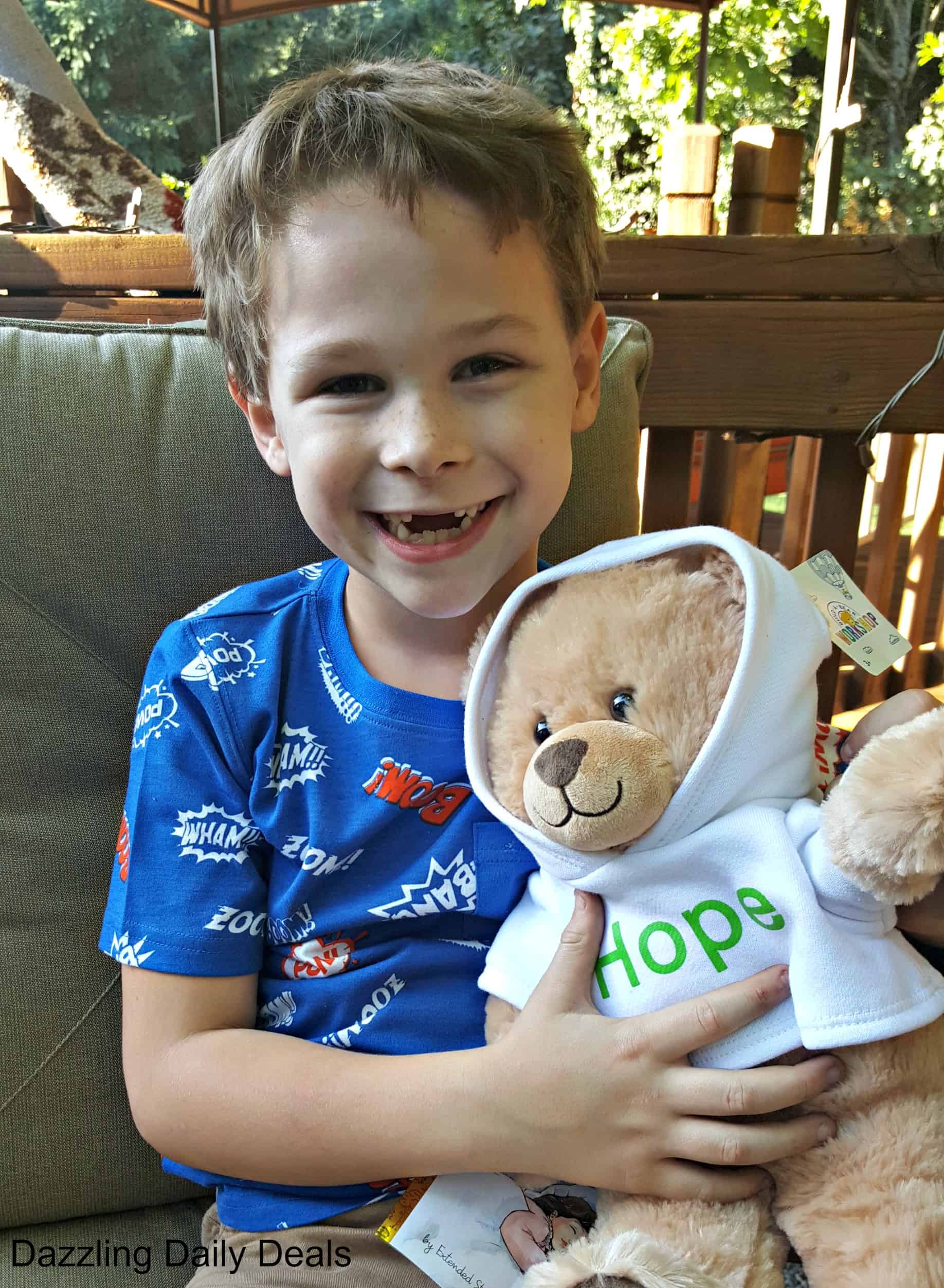 I have my Give Hope Bear and I plan to support this cause annually , I feel supporting the American Cancer Society and the Give Hope initiative through Extended Stay America is the least we can do. No parent should have to worry about where to stay during treatment or how they can afford it in a time of crisis. They need to focus on loving and supporting their loved one as much as they can. And, every child fighting so hard, deserves a little HOPE to hold on to.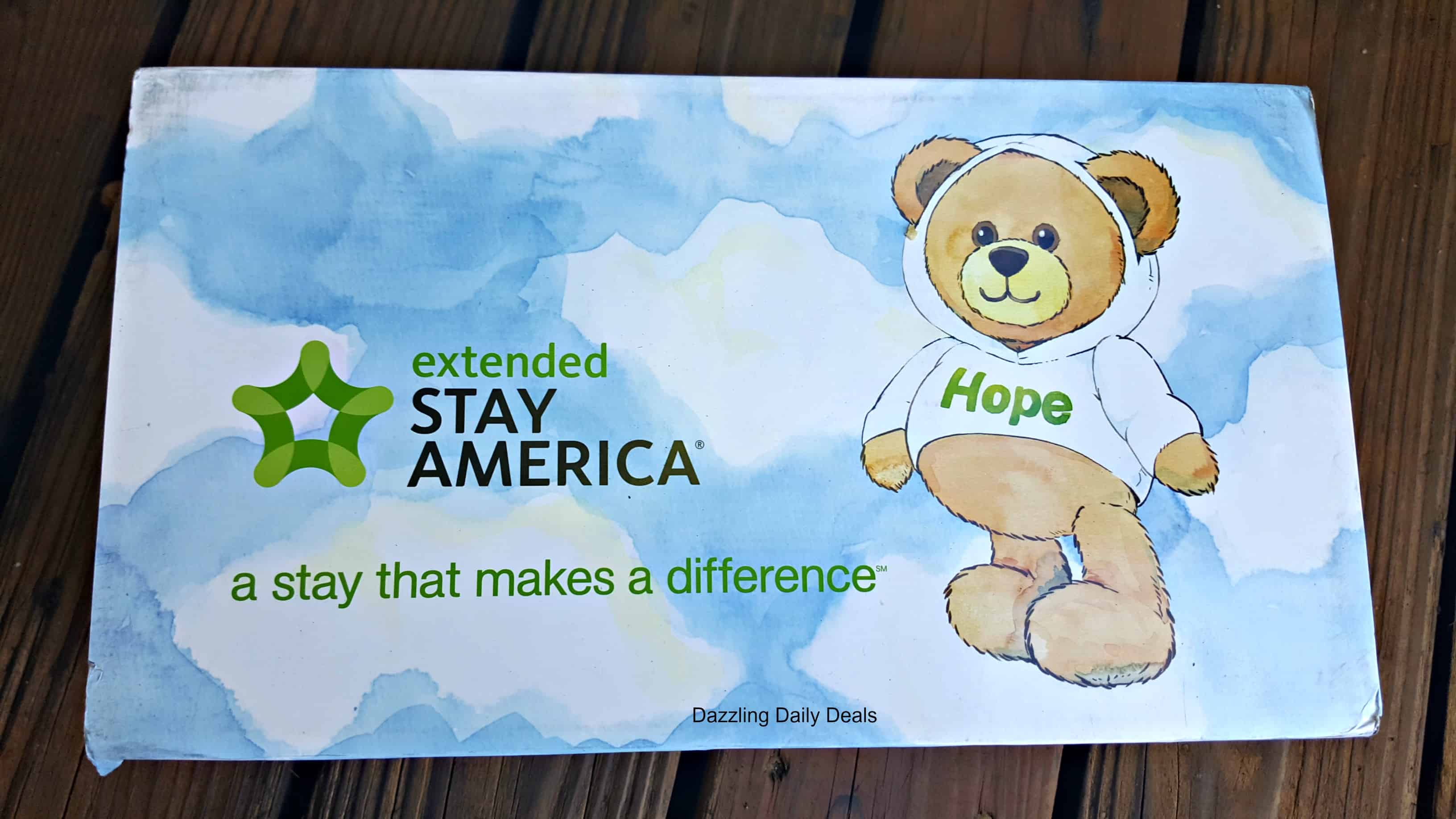 Please join me and thousands of others and #GiveHope. For just $10, a Give Hope bear can be delivered to a child battling cancer. Working with the American Cancer Society®, Extended Stay America will provide bears to children's hospitals nationwide starting in September 2017. For those who would like to bring Hope home to a friend, family member or loved one, Hope can be ordered and delivered to your home for just $19.99. For each Hope bear purchased, Extended Stay America will donate $5.00 to the American Cancer Society toward pediatric cancer research.