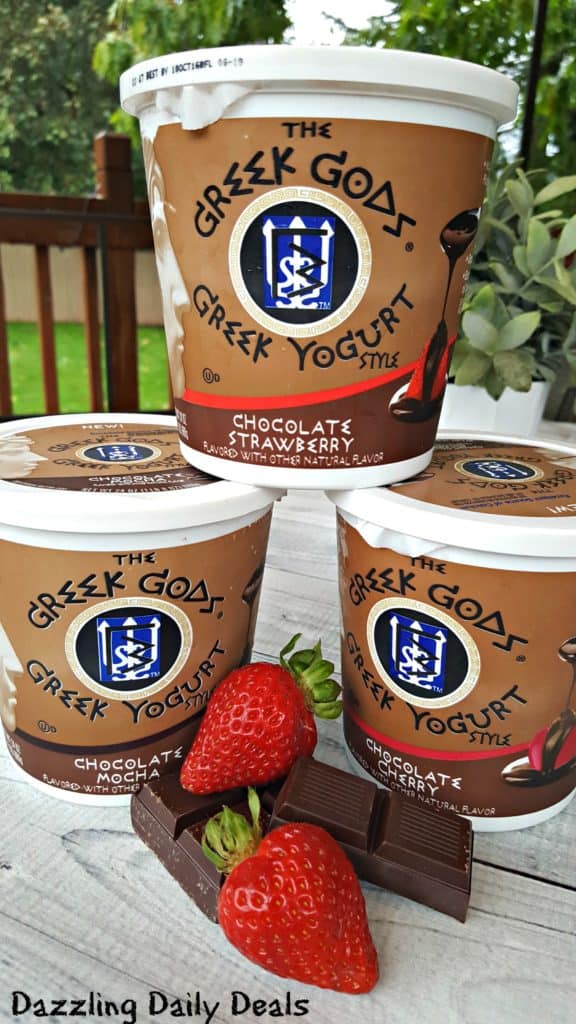 Greek Gods® Greek-Style Chocolate Yogurt…. why hasn't this been thought up before? I mean, everyone loves chocolate especially when it is enhanced this delicious flavors like Chocolate Strawberry and Chocolate Cherry, Right?
The rich and creamy texture mixed with delicious chocolate makes eating greek yogurt more of a dessert, but with all of the health benefits, this is truly a win-win!!
I have jumped on the Greek Yogurt bandwagon and will never go back but I always needed lots of additives to make it enjoyable. Now with Greek Gods® Greek-Style Chocolate Yogurt, I am able to enjoy without having to add things like honey, sprinkles, granola… all of which add to extra calories that I do not need.
The benefits are just outstanding:
Amazing source of protein
ProBiotic to keep your digestive track in check and running smooth
Perfect workout recovery food
Excellent source of calcium
Great on your waistline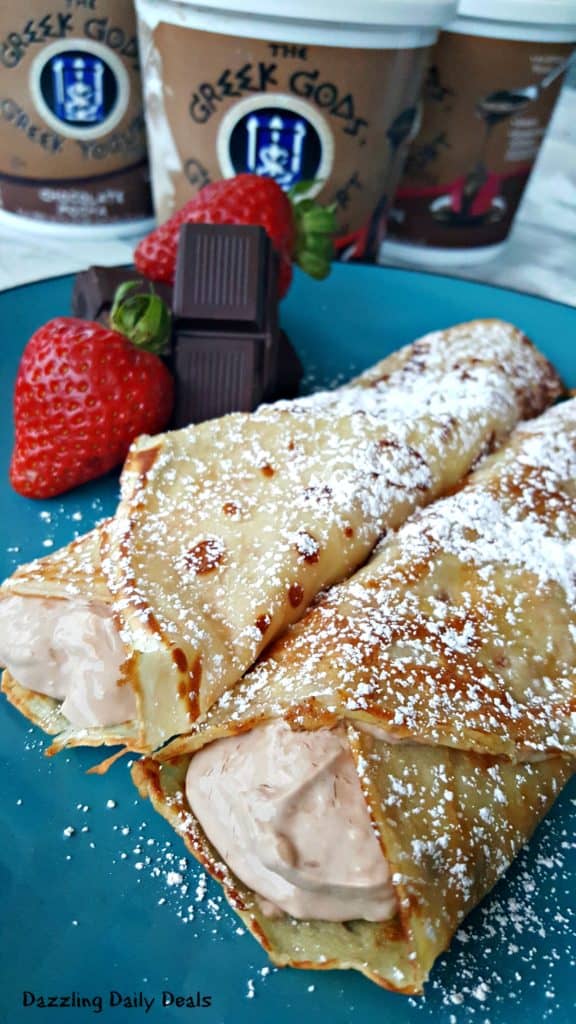 Crepe Recipe:
1 1/2 cups milk
3 large eggs
3 tablespoons sugar
1 teaspoon salt
3 tablespoons salted butter, melted
1 teaspoon vanilla extract
1 cup all-purpose flour
Additional butter for cooking
Filling:
1 package cream cheese
1 cup Greek Gods® Greek-Style Yogurt
Powder Sugar to taste (optional)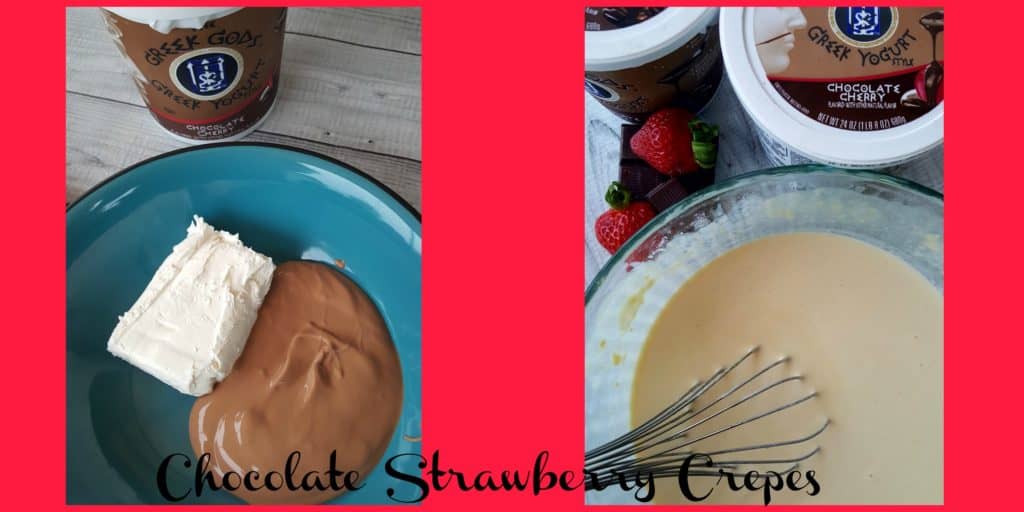 Mix the eggs, melted butter, and flour together until a thick paste is formed. Slowly whisk in the milk a little bit at a time so you have minimal clumps. Add in the rest of the ingredients and whisk thoroughly.
Pour the batter through a fine strainer to catch any clumps of flour and set aside.
Place a medium nonstick pan over medium heat, and add enough butter to the pan to coat the bottom.
Once the pan is hot enough, add just enough batter to have a thin layer over the whole pan. Swirl the pan as you add the batter to make sure it is even.
Once there is visibly no more uncooked batter, flip your crepe. You can flip it with a rubber spatula, or by flicking the pan (the second is easier in my opinion, because the crepe is so thin, the wrong amount of pressure trying to flip it will cause it to tear.
Cook for 45 seconds to a minute on the second side and transfer to a plate.
Prepare the filling, mix cream cheese and yogurt in a mixing bowl with a hand blender till smooth. Add Powdered sugar to taste for a sweeter filling.
Add filling and serve immediately with powdered sugar toppings!
Tip: If you are making your crepes ahead and keeping them warm: do not stack the crepes right on top of each other, spread them out a bit or the steam will make them soggy instead of crunchy on the edges.
I am so excited to offer this amazing GIVEAWAY!!! The winner will have a case of  Greek Gods yogurt and a stock of greek gods branded goodies like aprons, hats, shirts etc.
To enter, all you need to do is follow the rafflecopter directions below – GOOD LUCK!!
Disclosure: I have received compensation and product to create an original recipe and share with my readers the new Greek Gods Yogurt. All thoughts and opinions are my own.