Ahhh, summer: it is just upon us! Since we were kids, the thought of glorious summer went hand and hand with HOT lazy days, amusement parks, playing hard, picnics, BBQ's and road trips.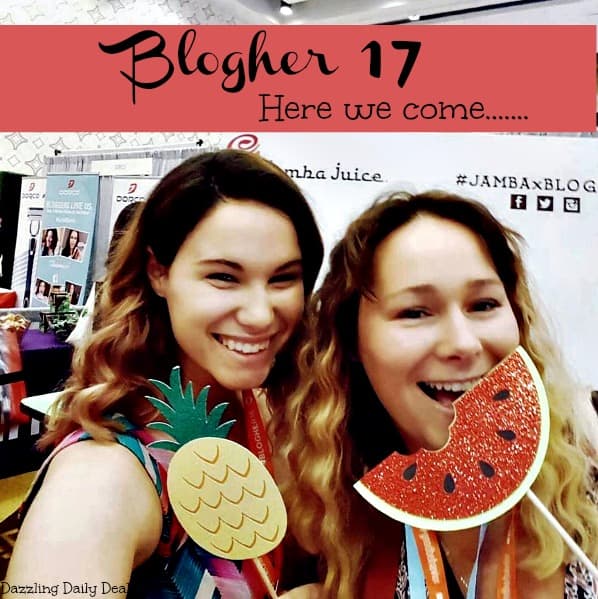 For my daughter and me, summer this year kicks off by attending BlogHer for the second time. BlogHer '17 takes place June 22-24, 2017 in Orlando, FL. We both work at a school and are counting down the days to our ultimate bonding time of uncharted territory. Neither of us have been to Florida before, so we are both a little nervous around all the "adventure" we will be experiencing. We are planning our trip for 10 days, which will include over 16 hours of travel from Portland, including a lengthy shuttle bus ride followed by HEAT, an exciting BlogHer conference weekend, HEAT, 3 days at Disney World, HEAT, and 2 days at Universal with a little HEAT to top it off. I am sure being native Oregonians – this is going to be quite a shock to our systems.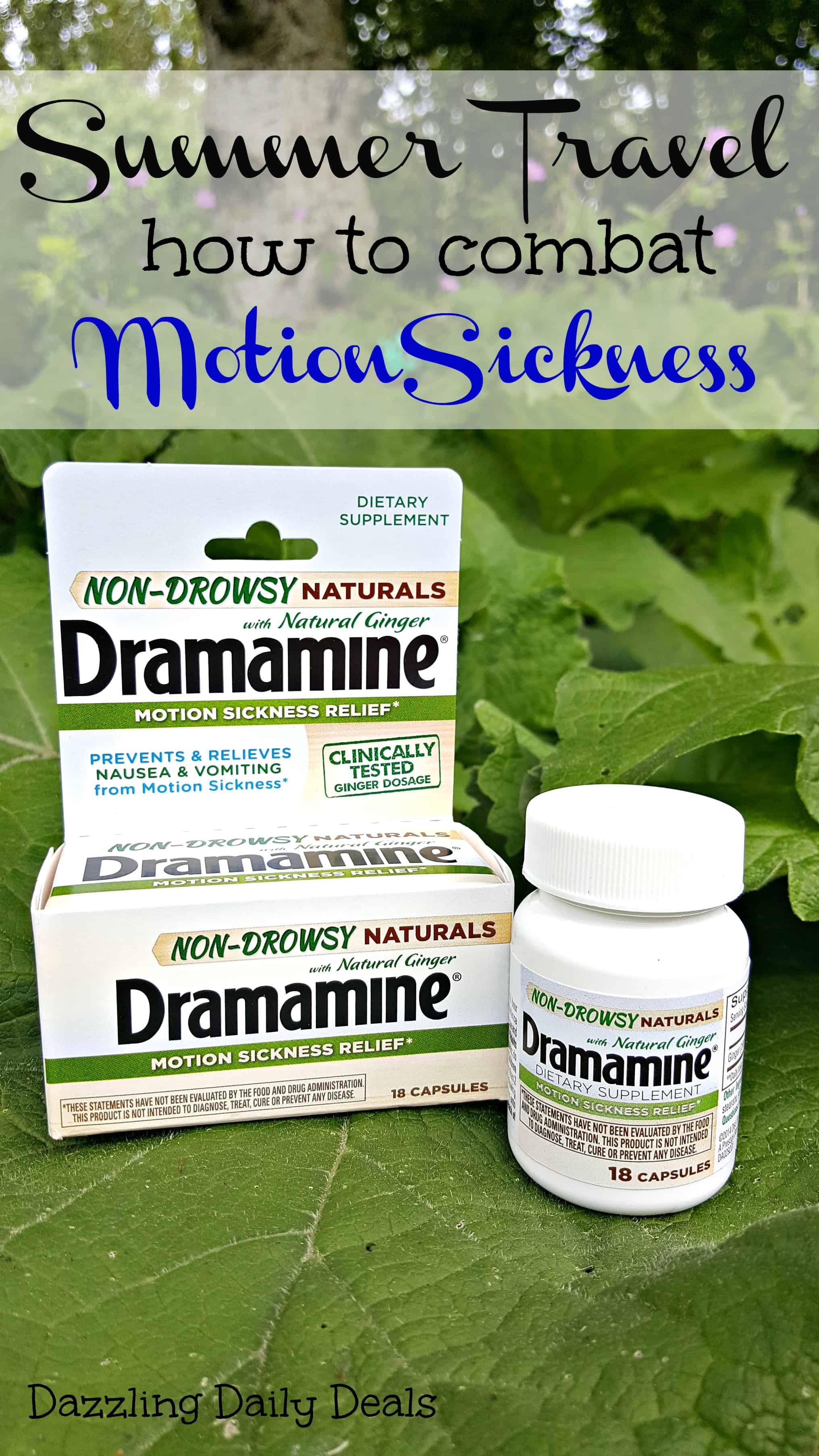 I have always been prone to motion sickness, but over the years and after having children, it seems to have gotten worse. A few years back when we made our first long family road trip to Disneyland in California, I discovered Dramamine® and it was a game changer. Before, the only way I could keep it together and function was to be the driver… try doing that for 36 hours straight; it was not fun. On the way home, I broke down and told my husband I just can't drive all the way home. I was also scared of feeling horribly sick all the way home as well. I remembered a friend mentioning she used Dramamine® during her last cruise and had zero seasickness! Oh boy, Dramamine® has changed my life!
So, needless to say, the first thing that will be going into my bag will be a bottle (or two!) of Dramamine®… I mean have you been on a shuttle bus?! EEK! I just discovered that Dramamine® now comes in a non-drowsy formula, Dramamine® Non-Drowsy Naturals! This will be amazing since we are West Coast girls and will already have a hard time waking up early. Plus, natural ginger is perfect for my daughter (she has a surprise in the works that has YET to be announced) 😉 If you have not heard of Dramamine® before, they're America's number one over-the-counter product for the treatment of motion sickness. Dramamine® Non-Drowsy Naturals delivers powerful relief from motion sickness and helps prevent nausea, dizziness, vomiting and queasiness. For best results, try taking Dramamine® Non-Drowsy Naturals 30 minutes before starting an activity or at the moment symptoms begin. It's effective and safe to use every day of your travel and is available at most mass, drug and grocery store throughout the United States, prices range from $4.99-$7.99.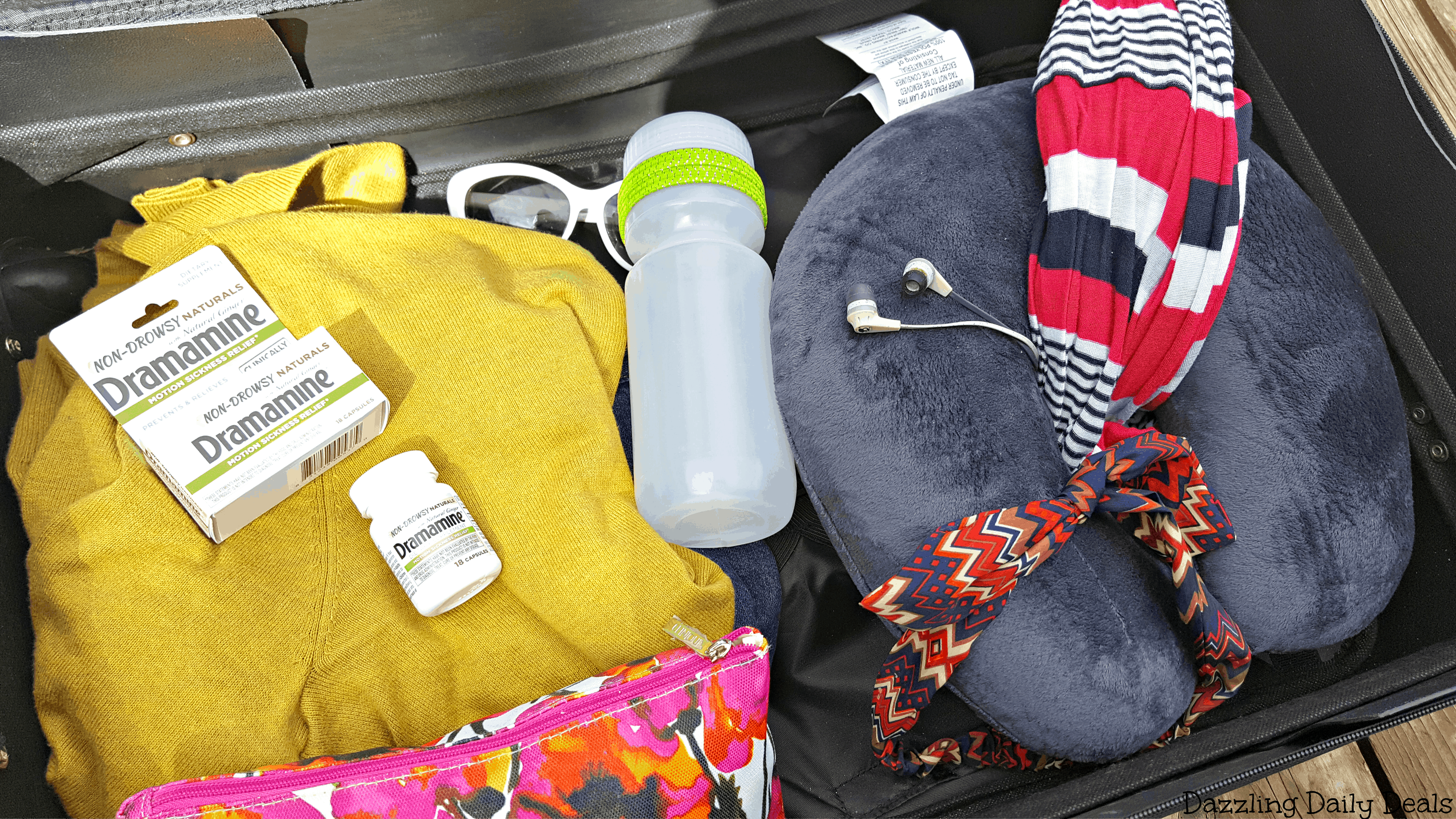 I am so excited for this mother/daughter getaway and I am making sure to be fully prepared for any motion sickness we may face from the heat, travel and amusement park rides.
For those of you who also suffer from motion sickness, here is a list of the seven items I always pack to help with my symptoms!
1   2 bottles of Dramamine® Non-Drowsy Naturals – this is a given! Prevention is key and I plan to have an amazing time!
2   Reusable water bottle – staying hydrated will help your tummy and keep dizziness to a minimum.
3   Battery operated fan – "fresh" air will help you relax whether on the plane or a shuttle bus.
4   Snacks – keep small amounts of food for snacking because an empty stomach can make nausea worse.
5   Ear buds – those who suffer from motion sickness know reading is the worst. I always make sure to download a great book or two to listen to on the plane.
6   Bandana or scarf – when feeling nauseous, a scarf or bandana can be wet down to help you cool off
7   Hair Tie – if you have long hair like me, putting my hair up in a ponytail or bun helps keep it out of my face and cools me down.
Join the conversation on social media by following @dramamine on twitter and @dramaminebrand on Instagram or following my BlogHer adventure at @Dazzlingdeal and share all the ways you #KeepMoving this Summer !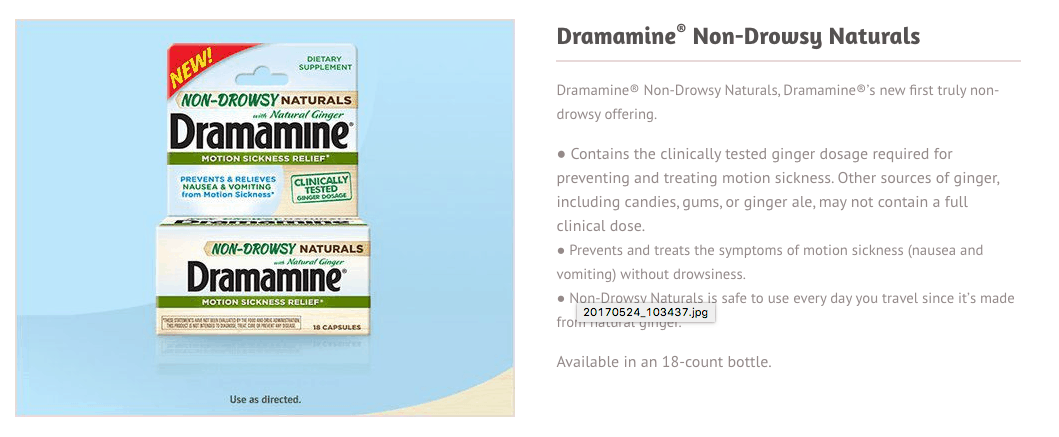 If you are heading to BlogHer '17 this year, look for me and say hi! Also be sure you visit the Dramamine® booth #211
Dramamine® Website Dramamine® Facebook Dramamine® Twitter
 How do you deal with motion sickness? Share your tips with me in the comments for a chance to win a prize!
Enter to win a $100 Visa gift card
Entry Instructions:
No duplicate comments.
You may receive (2) total entries by selecting from the following entry methods:
1. Leave a comment in response to the sweepstakes prompt on this post
2. Tweet (public message) about this promotion; including exactly the following unique term in your tweet message: "#Sweeps" and "#SweepstakesEntry"; and leave the URL to that tweet in a comment on this post
3. Blog about this promotion, including a disclosure that you are receiving a sweepstakes entry in exchange for writing the blog post, and leave the URL to that post in a comment on this post
4. For those with no Twitter or blog, read the official rules to learn about an alternate form of entry.
This giveaway is open to US Residents age 18 or older (or nineteen (19) years of age or older in Alabama and Nebraska). Winners will be selected via random draw, and will be notified by e-mail. The notification email will come directly from SheKnows via the sweeps@sheknows email address. You will have 2 business days to respond; otherwise a new winner will be selected.
The Official Rules are available here.
This sweepstakes runs from 6/12-9/12/2017
Be sure to visit the brand page on SheKnows.com where you can read other bloggers' posts!