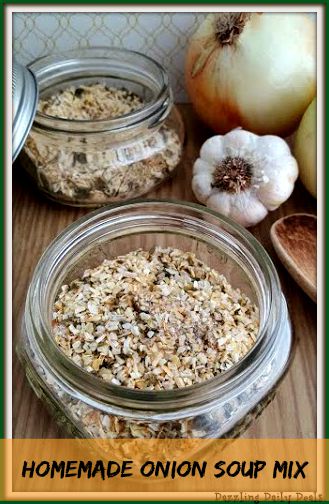 Why spend money on pricey onion soup mix, when you can make it at home for just a fraction of the cost… and most ingredients are already in your cabinet.
Make Your Own Cheap And Easy Homemade Onion Soup Mix
Ingredients:
½ cup dry onion flakes
3 teaspoons parsley flakes
2 teaspoons onion powder
1 teaspoon paprika
1 teaspoon garlic powder
½ teaspoon sugar
1 teaspoon salt
1/8 teaspoon black pepper
Directions:
1. Combine all ingredients in a small bowl or jar with a tight fitting lid, and mix well. Store in an airtight container.
Notes:
– Always shake the mixture well before using.
– 5 tablespoons of this mixture is equivalent to the store-bought soup mix.
– This mixture is perfect for making French Onion Soup Dip, French Onion Soup, spicing up meatloaf, burgers, roasted potatoes, and more.
– These make great gifts – simply wrap a pretty bow around the jar.