This is a sponsored conversation written by me on behalf of PG. The opinions and text are all mine.
This is a sponsored conversation written by me on behalf of PG. The opinions and text are all mine.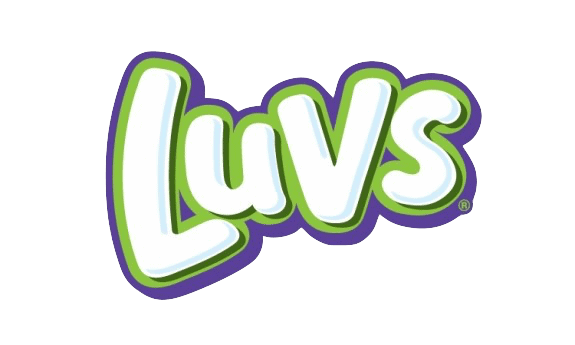 I remember when I had my first child, my mother had left me alone with her and I responded "you're leaving me alone…. what do I do?" Suddenly I was responsible for this beautiful, adorable baby and to be honest, I had no idea what I was doing. Like most mothers I had to learn as I went from experience. Just when I thought I was starting to get the hang of things… I got thrown for a loop with a second child, then third, fourth, fifth and sixth!!!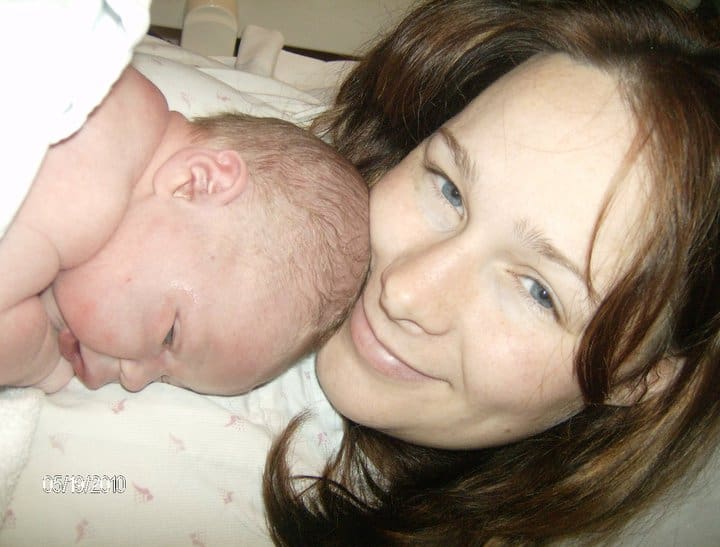 You would thing all this mothering would make me an expert…. and yes, in some ways I do feel like an expert, but as my kids get older movie towards uncharted territory and develop their own personality, I swear I am no better off than the that helpless young mother holding here baby for the first time. Having multiple children create a whole new set of rules and way of life. They require you to always follow your instincts as no two children are exactly the same despite your parenting.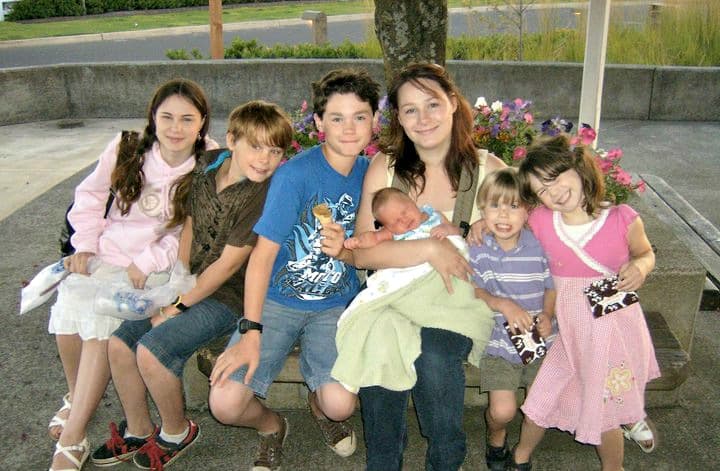 On the other hand, having more children certainly made my "mother's intuitions" as keen as a ninja. I grew smarter and more experienced each go around. I learned how to watch out for accidents long before they happened. I knew baby proofing by heart, I could spot gas from a mile away and I knew all the tips and tricks to get a fussy baby to sleep. Every baby is unique and requires special lessons for mom, but I got better with each successive pregnancy.
Of all the lessons I learned about being a mom of a large family on a single income budget,…. an important one is knowing when to stock up and when not to. I was known to chase deals from store to store, but I continues to evolve as a mom and realized my time was so much more valuable than taking that thirty minute trip to the store with kids in tow for a fifty cents savings on a package of toilet paper, you know what I mean. Time matters.
While going through my usual routine of searching out bargains, I am constantly watching for ways to save money without having to waste my time. Those are double savings and the key to staying sane with multiple children.
Here are 5 tips on saving big with a large family
Learn to make soup! – this is my favorite go to for dinner, lunch, snacks … you name it. Soup is perfect to keep warm on the stove all day. By doing this it will allow you to have a healthy, hearty meal when ever needed. I have kids coming and going at all hours with school, practice and even work, sit down meals are very rare now a days but I can at least offer some motherly love with a home cooked meal when they need it. BONUS, soup is perfect for using any leftover protein or veggies in the fridge from a previous meal
Buy off season – My kids may not always have the must have item this very minute, but they will be dressed nice. I will stock up and shop for clothes and shoes when ever possible. I will buy bags and bags of shorts and tanks in August at 80% off for next year. And the great thing is… with a large family, most likely someone will be able to fit the sizes you got 😉
You need to spend money to save money! – Some people just don't understand, in order to save big, you need to stock up while the price is low!!! I figure, if there is an item that I know our family will use… this can be cleaners, staples or toiletries I will do a 6 month stock up if the price is right! Yes, that might mean I am putting fourth a bit of money before it is needed but if you are saving more than 50%… that is going to save you in the long run.
Create a babysitting co-op – babysitting can be spendy…. especially with a large family! Eventually, if you are lucky enough to have a responsible first child, they may someday be a great sitter but until then, find a group of friends with children your kids age… maybe do a once a month swap so you can indulge in adult time or a date night.
Have a gift closet! – When you have many kids…. the birthday parties a re plentiful…. UGH! Don't get me wrong… I love birthday parties, I just don't like my kids telling me the night before and then have to struggle to find a gift… run to the dollar store for a bag and tissue paper…. it just makes me grumpy. When stores have big clearance sale, I stock up, I buy for boys and girl and many ages… this is a life saver ( I have an adult gift closet too, for thinking of you gifts or teacher appreciation gifts).
I am excited to share a money saving stock up deal with you today that I am absolutely in love with.
Luvs diapers have always been a trusted brand to me and I have found a deal that is impossible to pass up. Right now you can go to SamsClub.com and get Luv's diapers for roughly 11 cents per diaper for a five-week supply. Just over a dime! To save money, experienced moms know to never pass up a good deal like the limited-time $3 off offer on Luv's Ginormous boxes at SamsClub.com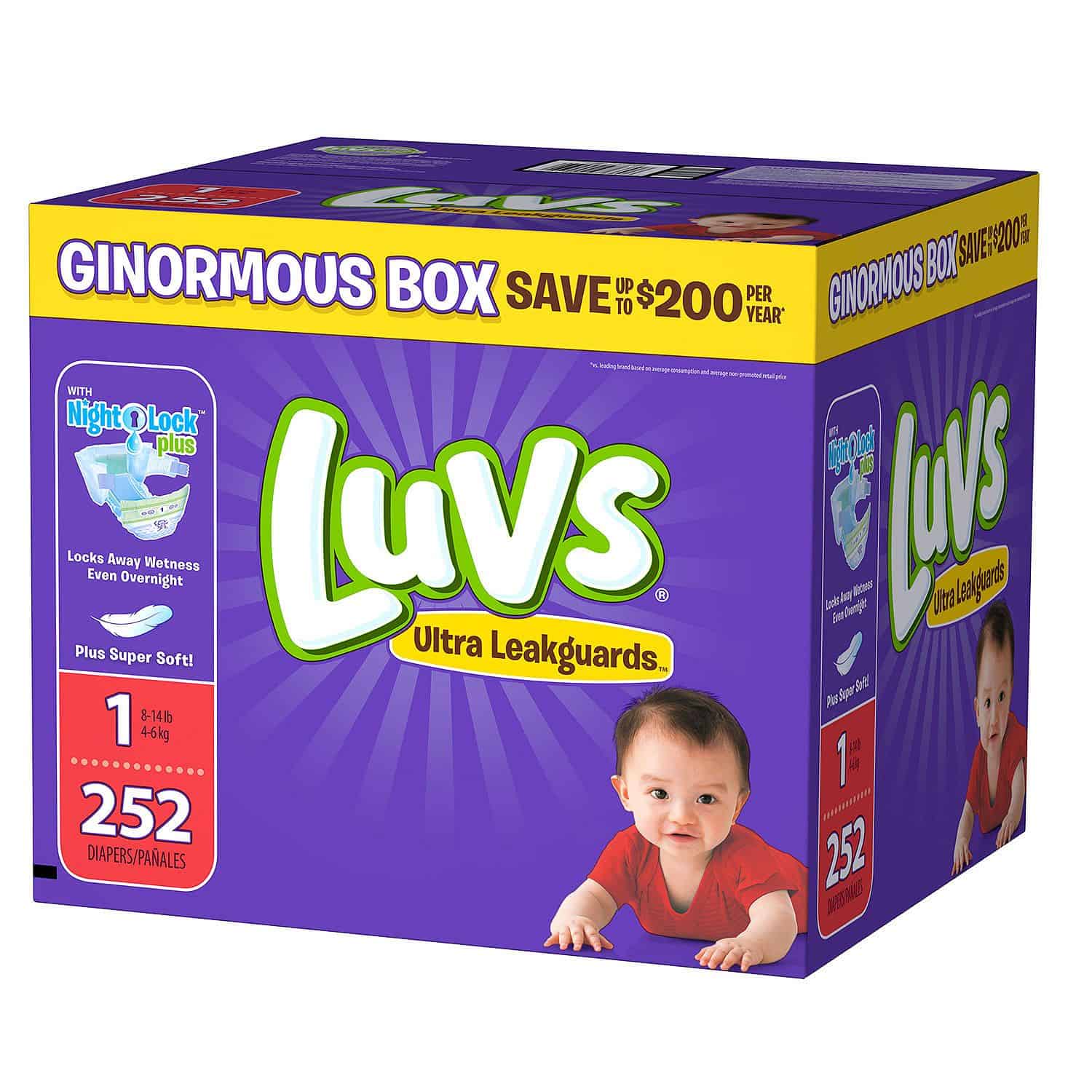 It gets better though. You not only get them for this awesome price, but you also get them delivered FREE right to your front doorstep. Now how much time and money does that save you? To sign up for this service, click "Save Time With Subscriptions" and select a frequency for delivery at checkout, and you'll soon find your favorite Luvs diapers arriving on your doorstep just in time.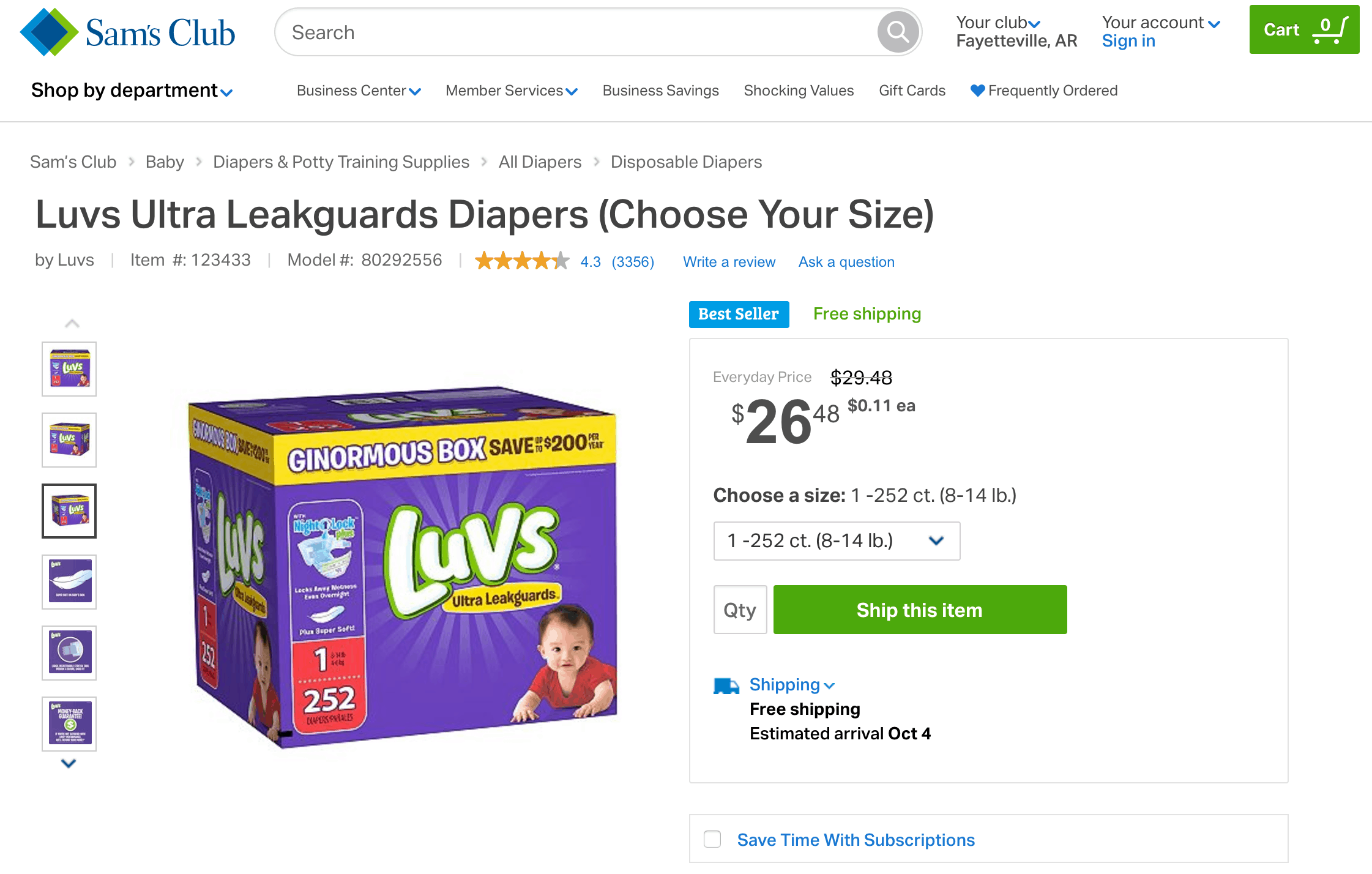 To recap…. Samsclub.com, or the Sam's Club app ( Apple or Android) is offering a huge box of Luv's diapers at an amazing price PLUS a limited time automatic $3 off savings, PLUS free shipping PLUS free automatic diaper subscription options. Phew… that's a lot to offer, not to mention the time and money saved!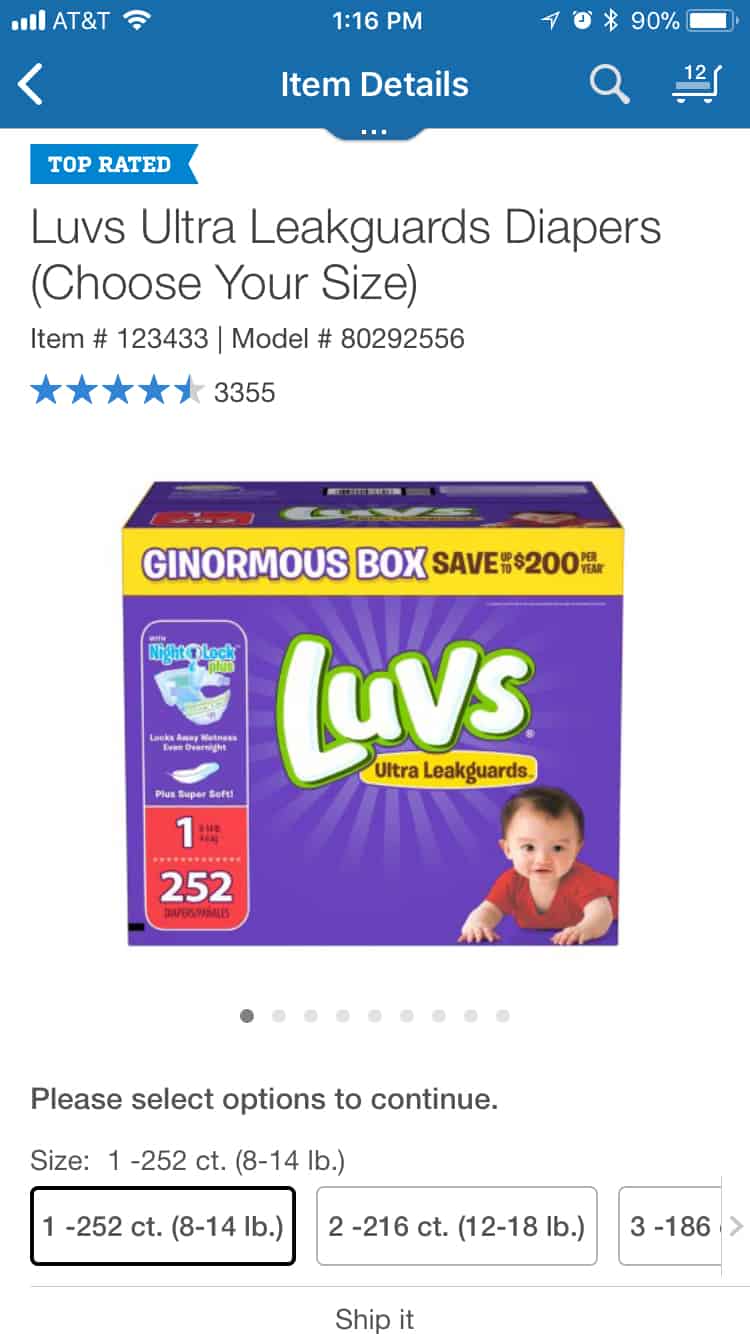 Go to the Luvs product page and order your diapers for delivery straight to your door
Jump on this deal today – Remember, ONLY available at Samsclub.com (not available in-club).