Disclosure – I receive a ZTE BLADE X to review and give my honest opinion. All thoughts are my own
I currently have a love hate relationship with my phone! It takes beautiful pictures and is easy to use but I am constantly in the dark with the latest game or app because I have run out of storage…. in fact, I have to chuckle, because last night I got the warning that I was " DANGEROUSLY low on storage space".
Even though I say I laugh… there is a part of my that is actually quite angry… you see, my $700+ phone does not have the capability for expanding storage. So, my options are to be forced to upgrade to a $900+ phone or explore other options…. and I think I am ready for a change.
I have been brand and carrier loyal for over 10 years and I am not necessarily any better off. I went looking for phone options for what I need…. awesome camera, reliable service, long lasting battery and expandable storage, and all that brought my to the ZTE Blade X available at Cricket.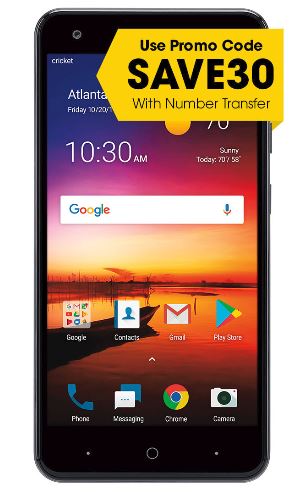 The ZTE Blade X is a fast, reliable phone that keeps up with today's high digital demands with it's Android 7.1.1 (Nougat) OS . Of course you can read emails and texts. But it also has no problem keeping up with browsing the web, viewing movies, and play games with the brilliant clarity on the vivid 5.5″ HD display (that's bigger than my current phone). Streaming and multi-tasking are a breeze with the quad-core processor and lightning fast 4G LTE speed.
I am thrilled about the camera… being a blogger, I take LOTS of pictures, the ZTE Blade features a 13 MP rear camera with flash and Full HD video, 5 MP front camera… I did my homework and that out performs some of the highly anticipated phone releases of 2017. As I mentioned previously… the expandable storage was my chief complaint at the moment with my current phone and the ZTE Blade has a SD port for extra storage… no more struggling to decide if I want to delete instagram or 300+ photos just to watch a video my sister sent me.  Plus with the 3,000 mAh battery I can rest assured that my battery life can keep up with my demand.
For security, they even offer the fingerprint reader!!! How awesome is that, my current phone doesn't have that!
For the music lover, you will appreciate the Dolby Audio™ for rich and clear, high quality, premium surround sound… this is going to make my workouts that much more enjoyable, oh AND I will be able to monitor my heart-rate with the ZTE Blade. The features just keep rolling!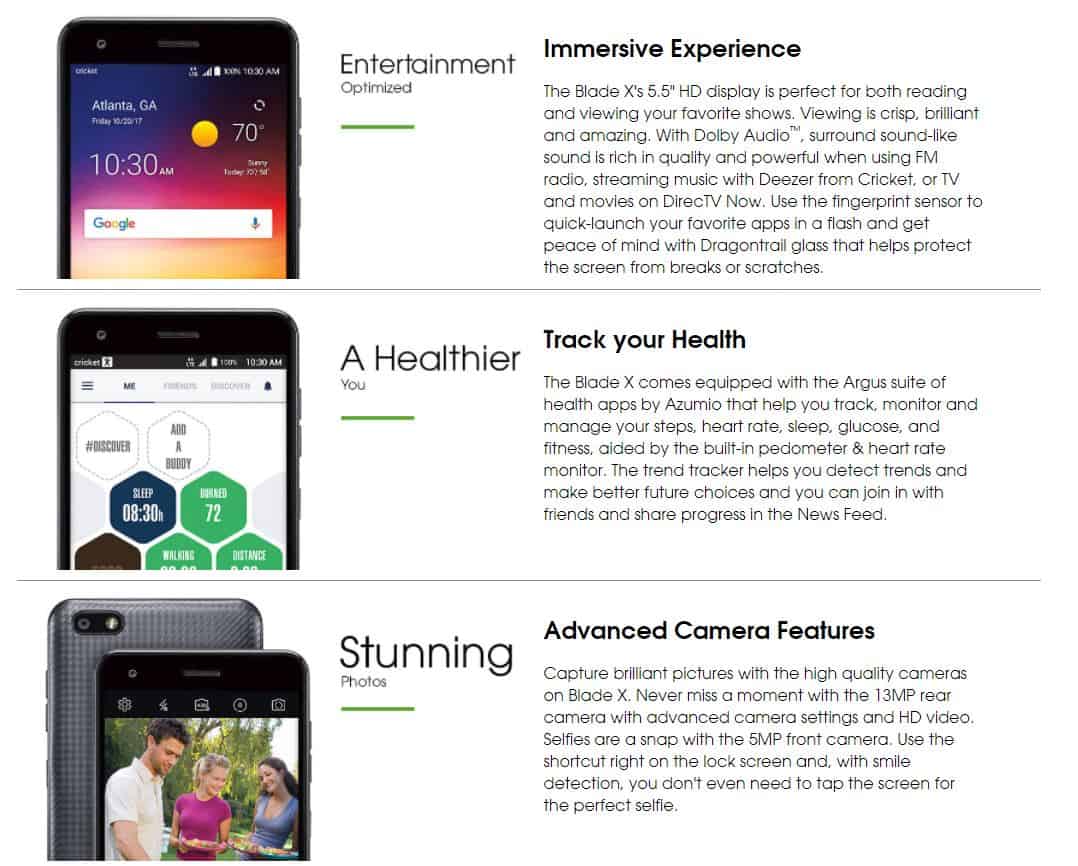 So you may be asking, how much is all of this awesomeness….. $500, $300, $100…. how about if I told you, you could head over HERE to Cricket and get amazing reliable service AND a ZTE Blade (with your phone paid in full) for only $69.99 with number transfer ($119 with new number). Crazy, right? With phones getting more and more expensive and getting to the $1,000 mark, I just can't keep up, especially with a large family and everyone wanting the latest technology.
Switching to Cricket and purchasing the ZTE Blade X WITH data access plans start at just $30/mo, and no annual contracts, sound like the new years resolution everyone should commit to. Get ahead of your finances without sacrificing quality and dependability to make 2018 the year to save money.